Rainbow, Sun, Rain Cloud Cupboard Door Drawer Nursery Knobs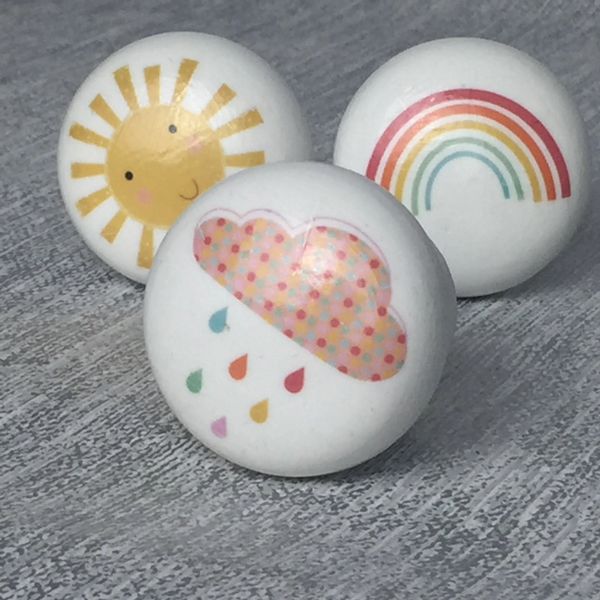 Rainbow, Sun, Rain Cloud Cupboard Door Drawer Nursery Knobs
Adorable rainbow, sun and raincloud designs on hand painted wooden knobs.
Choose from the three designs. They look great individally or as a set.
Available in white, cream or grey. Please see photos for paint colours available.
These cute weather knobs will work well in a nursery, playroom or child's bedroom.

***SOLD INDIVIDUALLY*** 
A set of six is also available with two of each design. Please select from the menu options.
Beech knobs with metal inserts, provided with bolts.
Allow a minimum of 5mm to secure the knob onto the bolt and the depth of your surface.  There area number of lengths to choose from.
Please note the the bolts screw into the back of the knob and will sit flush on the inside of your surfaces.
Hand painted and decorated.
Wipe clean with a damp cloth.
All materials sourced and purchased in the United Kingdom
Dimensions:
4cm diameter.
3.5cm high.
2.9cm base.