Personalised Baby Toddler Children's Sun Cushion, Double Sided Print, Various Sizes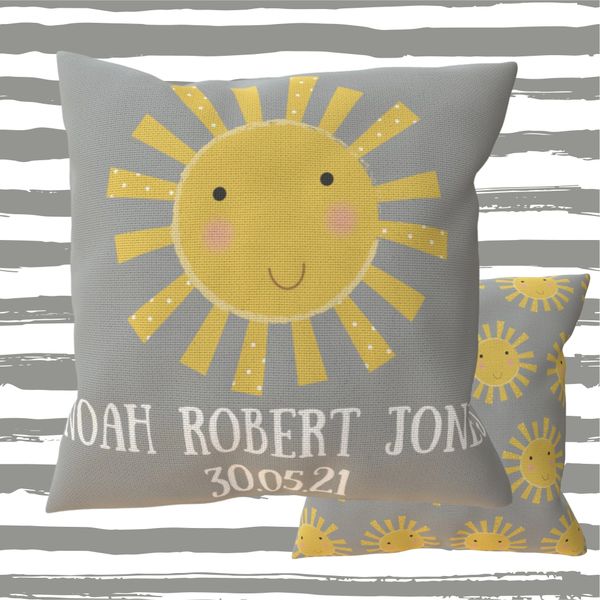 Personalised Baby Toddler Children's Sun Cushion, Double Sided Print, Various Sizes
This cute smiling personalised sunshine cushion is perfect for adding to a little ones room.  Adding a name (and a date if required) makes it extra special or even a small quote. The smallest of these cushions would make a lovely baby shower gift (without the date) or a new baby gift.
 This design is also available on a fleece blanket or our hand decorated wooden knobs.
Surface Candy cushions are a great gift choice for Birthdays and other occasions. If you can't think of one, make one up! 
 Is there a particular theme in mind and you cannot find something suitable?
 Please send me a message, I will be happy to assist with a design.  
I am currently designing cushions to co ordinate with the children's collection and some new "grown up" ones too.  (Please join the mailing list. I don't bombard anyone, it's a quarterly update).
All cushions are available in three sizes and two finishes, faux suede and linen effect.
They are both excellent quality and  colour fastness.  As a parent (and recently a Nanny), I find the faux suede easy to clean an odd mark with a baby wipe but they can both be washed at 30 degrees and come out as bright as they went in, even after repeated washing.
SMALL 30 X 30CM  Baby/Toddler Size 
MEDIUM 45 X 45CM Standard Sofa Size 
LARGE 60 X 60CM  Extra Large for a reading corner or floor cushion, (great for time out!).
Whatever size cushion you choose they are perfect for encouraging nap time or even "time out" from tears and tantrums. I even thought about practicality, a dark background and a co ordinating pattern on the back. I know exactly how mucky toddlers can be and how quickly a white background spoils. (A quick turnover when unexpected guests arrive reveal an equally pleasing reverse. We've all had those moments!).
Surface Candy cushions are dye sublimation digitally printed, have a concealed zip, removeable fibre inner and are washable at 30 degrees making them suitable for everyday use. All cushions are printed in England.